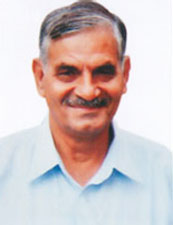 Navin Khanna
(Crow Friend)
Navin Khanna, M.A and First Class Mining Engineer, Writer and renowned Ornithologist, studying behavior of common wild crow since 1969, lead coverage given to this by Limca Record Book, under the chapter Nature(Bird) 2002. Amateur Archaeologist, discovered ancient inscriptions in Deoli, Delhi and also brought to light many rare books pertaining to Indian culture. Was born in 1945, Ferozerpur (Punjab).

His prominent works are:

(i) 'Prachin Misr Mein Bhartiya Sanskriti' (The book on Indian Culture in Ancient Egypt).

(ii) 'Adhura Mahapurush', Poetry (The book attempts to provide solutions to psychosomatic and to artifical intelligence).

(iii) 'Rang Aur Aap' (On all the aspects of choice of colours).

(iv) 'Jis Din Veh Ek-Hongey'- Novel (The book dealing with Naxalite problem).

(v) 'Galatfehmi', anecdotes of day to day life.

(vi) 'Phoolmani ki Dastan Tatha Anya Kahaniyan', (Story Book).

(vii) Indian Mythology through the Art and Miniatures.